Maanch turned one in April and as a team we took this opportunity to reflect on some of the milestones we have achieved as a business over the last year, as well as what some of the main highlights and learnings have been for us personally.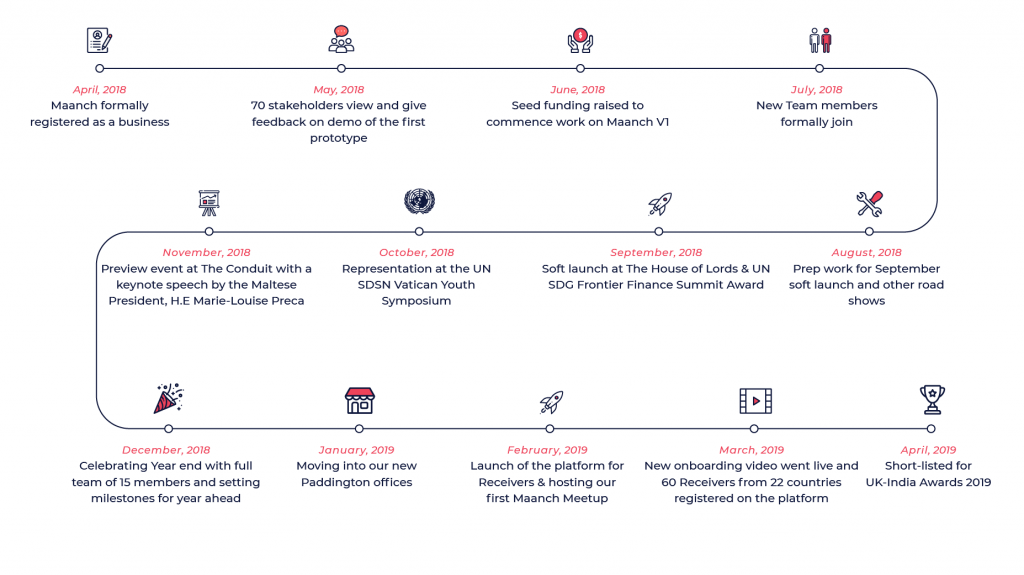 Darshita – Founder and CEO
Highlight
To build something that doesn't exist in the market has allowed us to creatively question and test so many new ideas that sit outside "conventional" practice. Each day we look at the mould and think about how we could break it to positively challenge the market, and this creative and questioning process has been a personal highlight of mine on our journey to date.
Learning
The Maanch journey has challenged me and tested my strength and determination in ways I couldn't have anticipated. The balance between leading with need and leading with strength and finding that inner balance has been a big personal learning and reflecting on the last year I would advise any start-up founder with a tech business to double the runway and double the cost – it's a marathon not a sprint!

Natalia – Business Development
Highlight:
London is the perfect place to launch Maanch – with so many people and activities aligned around common goals it is easy to find like minded peers and access a large community of global changemakers who are influencing emerging trends.

Learning:
If you want to build something truly valuable, build it together with your customers and specifically address their unmet needs. And always walk your talk…!

Morgan – Strategy and Stakeholder Management
Highlight
Taking something from vision to tangible product(s), and witnessing all the key milestones on the way. From wowing people with a high level idea, to introducing it to close stakeholders, to widening the net and launching something we know there's a need for in a ripe market.

Learning
Cross disciplinary, international teams are exciting to work with. It makes communicating effectively a learning exercise, but it's complete magic when it falls into place!

Emily – Marketing and Brand
Highlight

Our preview event at The Conduit in November 2018. Bringing together a community of Receivers, Advisors, Grant Making Foundations, Policy Makers and Philanthropists to share their vision for a fair future and planetary sustainability was so inspiring and the sense of commitment in the room to achieving sustainable development was really powerful.

Learning

Goal posts can change when you are launching a start-up and one of the strengths of being a young businesses is how quickly you can adapt and be flexible as projects and timelines change. Learning how to be agile in how you respond to business changes and opportunities is not without its challenges but is so important, as is maintaining this as you grow.

Larysa – Product Development
Highlight

Launching the Receiver's side of the platform in February this year. This was definitely a big step for the whole team and brought with it a great feeling of excitement and achievement when our first Receivers started on-boarding and we could see their high impact projects created on our platform for the first time.

Learning

Feedback should always be valued over intuition. Looking at the product from multiple angles, constantly evaluating ideas and most importantly gathering feedback at the earliest possible stage will always positively contribute to the overall product development process, as well as mitigating potential risks of moving in the wrong direction.