Top Philanthropy Trends for 2019
Take a look at our blog on Philanthropy trends and some of the motivations behind how we have built our platform.
We are live for onboarding – check out our new impact projection metrics!
After collating stakholder feedback following our initial launch in February of this year, Team Maanch are pleased to announce that the enhanced version of the Receiver side of our platform is now open for UK charities.
Over the past week we have accrued nearly 150 organisations to join our platform. If you are, or know of, any organisations that would like to build their profiles and showcase their projects on Maanch, please send them to our onboarding process here.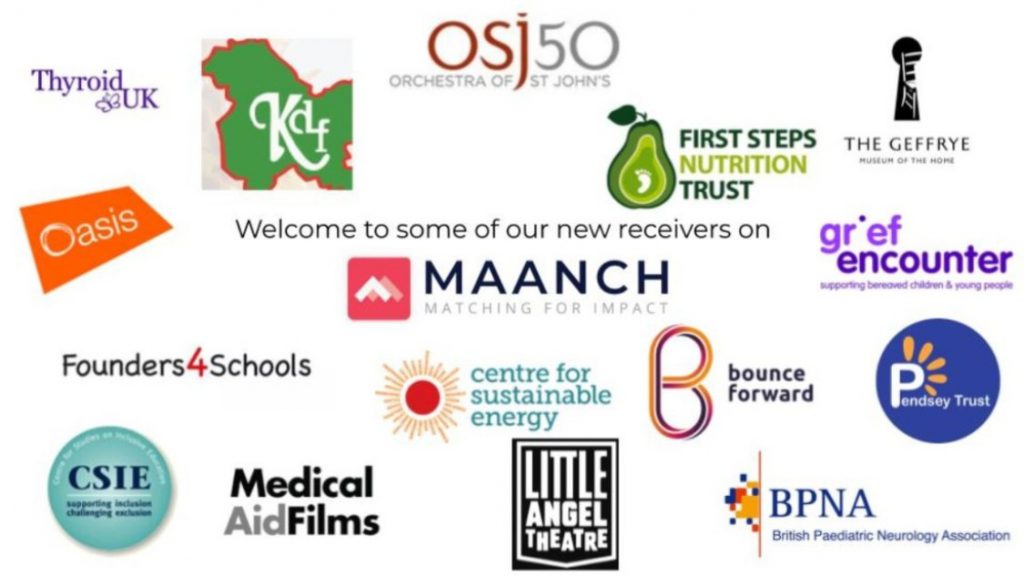 The 5 SDGs that the UK is most struggling to attain
At Maanch, we use the Sustainable Development Goal country data as one of the base sets to project the impact of projects. We have identified the five goals that need addressing most urgently to achieve the SDGs by 2030 in the UK. Find out more about the goals below:
GOAL 17: PARTNERSHIPS FOR THE GOALS
This goal promotes working together, which will strengthen the means of implementation from a local to a global level to achieve sustainable development. The partnerships are divided into financial, technological, capacity-building, trade, policy and institutional coherence, including multiple stakeholders, and monitoring and accountability. By partnering on any or all of these bases will assist in the reliable achievement of the other 16 Goals.
GOAL 12: RESPONSIBLE CONSUMPTION & PRODUCTION
This goal promotes the move towards sustainability of consumption and production on a national and global scale, and covers everything from transparency and clarity on consumer choice, to the sustainable management of waste from industrial production. This Goal specifically looks at influencing businesses (through recommendation and policy) to incorporate sustainability into their procurement, staffing, and reporting, such that sustainability is embedded in the consumption and production cycle.
GOAL 14: LIFE BELOW WATER
This goal encompasses all elements of the protection, restoration and sustainable use of our oceans, seas and marine resources. With an emphasis on reducing marine pollution, increasing the resilience of coastal and marine ecosystems, research on and minimisation of marine acidification, and sustainably managing water-reliant economies to ensure biodiversity while also ensuring fair work and income for those dependent on the oceans.
GOAL 15: LIFE ON LAND
This goal encompasses all elements of the protection, restoration and sustainable use of our terrestrial ecosystems. This includes a commitment to protecting forests, creating a coherent plan against soil degradation, desertification, and the destruction of habitats of flora and fauna, all of which are critical to biodiversity and sustainable development. This is to be encouraged at a policy level, with a commitment to mobilise resources (financial and non-financial) to enable this conservation.
GOAL 10: REDUCED INEQUALITIES
This goal seeks to reduce inequality within and among countries, in terms of economic, social, and political inclusion. There is a commitment to achieve and sustain the income growth of the bottom 40 percent of the population at a rate higher than a national average, reduce and eliminate discriminatory laws and practices, monitor international financial markets, encourage development assistance and financial flows, from nation states to individuals in the form of remittances.