During the course of our two and a half year journey here at Maanch, we've learned a lot. We launched on a mission to solve the global challenge of transparency, measurement and accountability in the Impact Ecosystem. There is a lack of alignment, visibility and discoverability across sustainable initiatives and no integrated impact assessment for the evaluation of projects across geographies and sectors. We knew tech is a big part of the answer! Today, we have created the award-winning platform that provides global impact metrics and facilitates funding to projects through the lens of the United Nations Sustainable Development Goals (UN SDGs). With 600+ partners across 15+ countries, we've come a long way in proving the value of integrated technology within the Impact Ecosystem.
But we are not stopping there: it is clear to us that there is considerable energy and urgency amongst an increasingly diverse group of stakeholders to achieve the UN SDGs within the next 10 years. This is why we're rebranding and expanding our solution; we believe that in order to best contribute to the Impact Ecosystem, we must also engage and support funding bodies, corporates and investors to help drive their impact forward. Therefore, to fuel our journey along the renewed strategic focus, we are delighted to announce that David Stead will be joining us as our Chief Strategy Officer. "David joins us at a very important juncture where we are expanding our horizons to serve institutional stakeholders with our expertise in impact-tech. With David's intensive experience and expertise in impact investing, CSR and philanthropy, we are even more confident that we will achieve our audacious goals ." says Darshita Gillies, Founder & CEO, Maanch.
"After many years at CAF (Charities Aid Foundation) helping major corporates and philanthropists to achieve their impact objectives, through a range of investments, grants and consultancy, a number of things have become clear to me. First, although there is no shortage of capital looking to make a positive difference, the "market" for impact capital is very inefficient. Getting funds to the most suitable users lacks transparency, speed and assurance. Secondly, technology and quality data are a big part of the answer. And this is why I am so excited to join Maanch and its talented team at this time. Maanch is a global leader in impact tech, co-creating solutions with clients to understand, measure and track impact in a meaningful way. I believe it is the future." comments David.
He further adds "My initial priorities are to help shape the strategy and ensure that clients and trusted partners are at the centre of our development. As a B-Corp with a bold social purpose, we will work with others to transform the market and create a future where solutions to the world's biggest social and environmental problems get the support they need."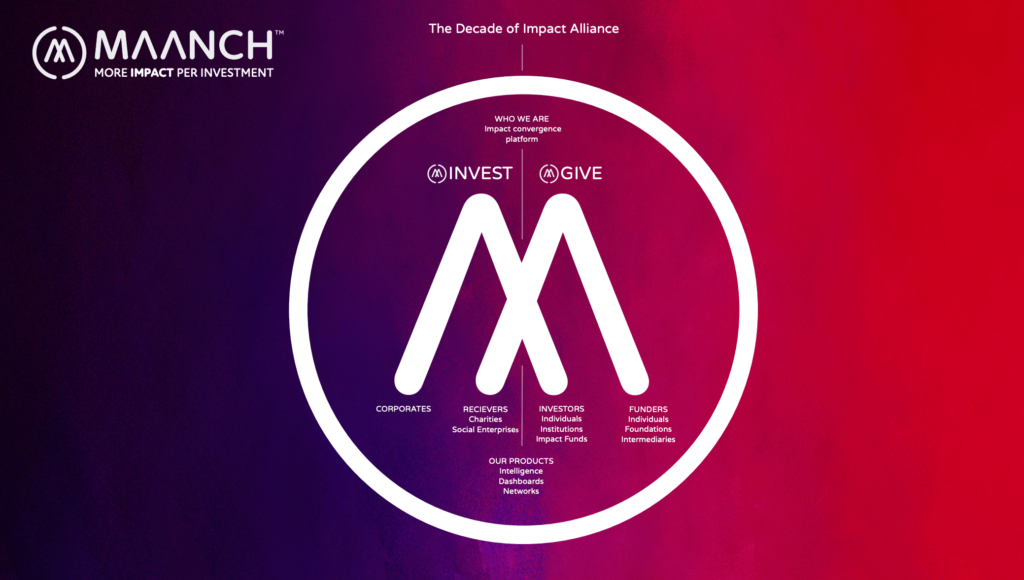 With our new portfolio of solutions, we aim to provide several missing features & services to accelerate the world's sustainable development agenda:
Our (M) INVEST impact dashboards for businesses and investors provide bespoke impact-tech solutions to achieve more impact per investment.
We work with business leaders and investors to help them understand the net societal impact of their entire business or portfolio and how they can learn and improve.
Our (M) GIVE solution focuses on harmonising the impact journey with automated measurement, tracking and reporting for charities, social enterprises, funding bodies or philanthropists. 
We provide fit-for-purpose reporting that meets evolving regulatory requirements.
We enable customers to track and increase the overall impact of their activities.  
We're excited about continuing the journey we set out for ourselves over two years ago: working to achieve the UN SDGs and creating a fair future for people and planet.
Learn more about us here.
---