Net Societal Impact: Responsible and Ambitious Growth
Growth and capital will follow companies that create value in the long-term for all stakeholders. Long-term value creation requires an impact strategy backed by effective communication, processes and systems which enable successful execution, and demonstrate tangible impact through measurement, reporting and a coherent narrative.

Net Societal Impact is the most effective system for businesses to:
Have a full overview of all the positive and negative environmental and social impacts of their business.
Create short and long-term sustainability strategies.
Gain targeted insights into how to become and stay net positive.
To learn more, download the full report: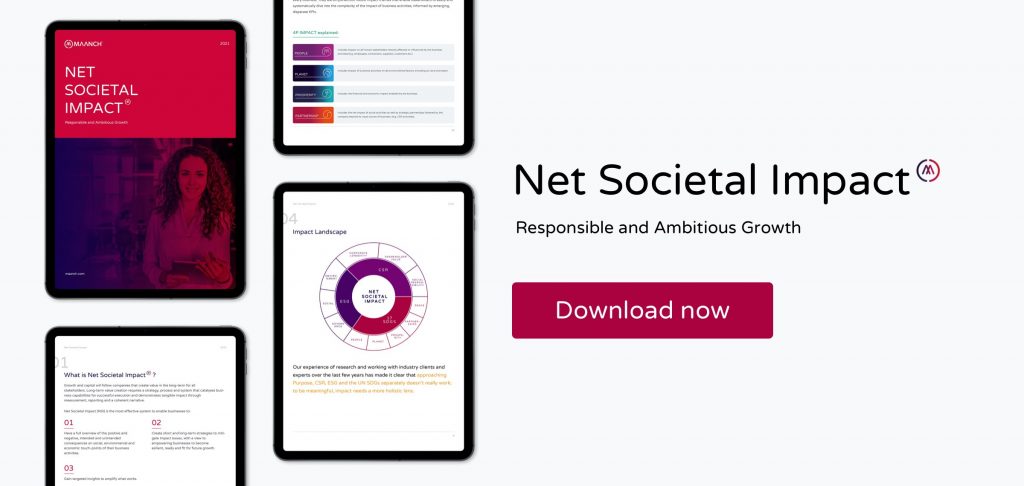 Regulating Engagement: Demonstrating Impact in Accordance with the FCA guidelines
Consumers are placing significant value on ESG-related investment opportunities. It is therefore essential that funds marketed with a sustainability and ESG focus describe their investment strategies clearly and any assertions made about their goals are reasonable and substantiated. The letter by the Financial Conduct Authority (FCA) specifically highlights the value of stewardship in demonstrating ESG strategy as part of an important intervention designed to build greater trust in the ESG market. Continue reading.
ESG Engagement in Investment Management: The corporate perspective
Following our recent blog post concerning investor ESG engagement, we at Maanch wanted to look at the "other side". This blog therefore digs deep into the corporate perspective, outlining our insights into how corporations best manage their engagements with investors. Amidst the pandemic, the need for corporates to fully integrate ESG into their everyday operations has only been further emphasised. Continue reading.
Stay in the know
---