The UK 2020 Stewardship Code has led to an increase in responsible investment by approximately 34% in the last two years. With data from over 50 firms in the UK, asset managers averaged 158 engagements with their portfolio companies in a year. As a result, engagement is now front and centre in the corporate agenda, increasing the strength and accountability of the stewardship team. Members of the stewardship team are an integral part of any due-diligence process and board meetings and can be key players in ensuring ESG alignment of their portfolios.
We recognised the growing need for a structured system for making sense of engagement data that currently sits in clunky spreadsheets that are siloed. Introducing the Maanch Engagement Tracker, a tool to capture, analyse and report engagements with portfolio companies. Read on for more!
Why is Engagement important? Lessons from Engine1's engagement with ExxonMobil
Communication is something we might take for granted in our daily lives. However, the companies that spend time making communication seamless tend to amass large valuations. One thing that might particularly be taken for granted is the different mediums through which communication takes place in today's world. We at Maanch, are particularly interested in those types of communication that leads to positive change in the corporate-dominated world, through the lenses of the UN SDGs and ESG pillars.
We carefully examined the course of events that took place in the Engine No1 campaign against the behemoth of Exxon Mobil that set an example for the investor ecosystem. We particularly looked into the different lines of communication that were opened and what it took to create such a positive change within Exxon Mobil.
What is the Maanch Engagement Tracker?
An engagement tracking tool for investors that facilitates targeted ESG impact over time, our latest product helps deliver on the higher engagement standards for asset owners, managers and service providers.
Key Features:
Measure every engagement with portfolio companies.
Record every issue and interaction.
Identify escalations and seek timely action.
Aggregate engagement data over time.
Set and monitor ESG targets.
Generate ESG reports aligned with UK Stewardship code, GRI taxonomy and UN SDGs frameworks.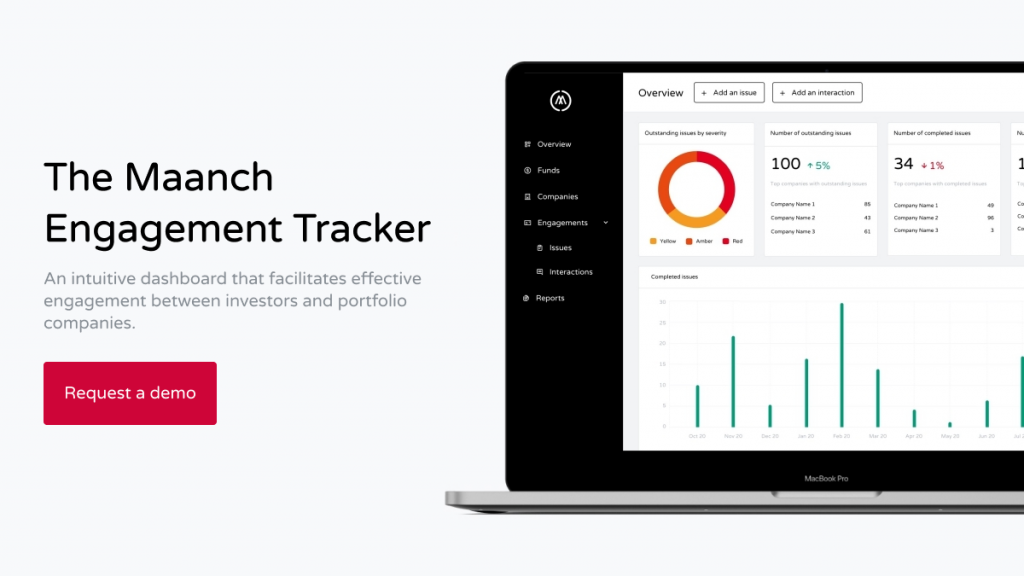 Thanks for reading. Do write to me with topics you'd like us to write about in the impact space or any feedback!
---