Greetings,


The Financial Reporting Council (2020), in its UK Stewardship Code, defines stewardship as 'the responsible allocation, management and oversight of capital to create long-term value for clients and beneficiaries leading to sustainable benefits for the economy, the environment and society.'

After extensive research and conversations with several UK-based asset management firms, we identified various gaps in the stewardship engagement ecosystem. In this newsletter, we are happy to share our white paper on "Why and How to Effectively Engage with Portfolio Companies" in an attempt to simplify ESG engagement for asset managers and owners. Read on for more!
The Case for Engagement

ESG takes on multiple shapes and forms and continues to evolve every day. However we can broadly categorise the implementation of ESG strategies into three fundamental methods:
ESG Investing looks at the company's environmental, social, and governance practices, alongside more traditional financial measures.
Socially responsible investing or ESG screening involves actively removing or choosing investments based on specific ethical guidelines.
Impact investing looks to actively and intentionally help a business or organisation complete a project or develop a program, or do something positive to benefit society.
We are now seeing another form of investor gaining traction and tapping into the momentum that is generated by the above three forms of investment. The activist investor being the most vocal and one of the most "engaged investors".

Continue reading
Technology and Engagement: A Practitioner's Perspective

To better understand the role of technology in the engagement space, we spoke to Bill Hartnett. Bill is a highly respected and award-winning ESG executive with 20+ years of successful experience in all aspects of responsible investment (RI) and stewardship with particular strengths in climate change. He has gained international experience in both London and Sydney across roles in asset management at Aberdeen Standard Investments, asset ownership at Local Government Super, and research at both Innovest and MSCI ESG.

Download the report to view the conversation.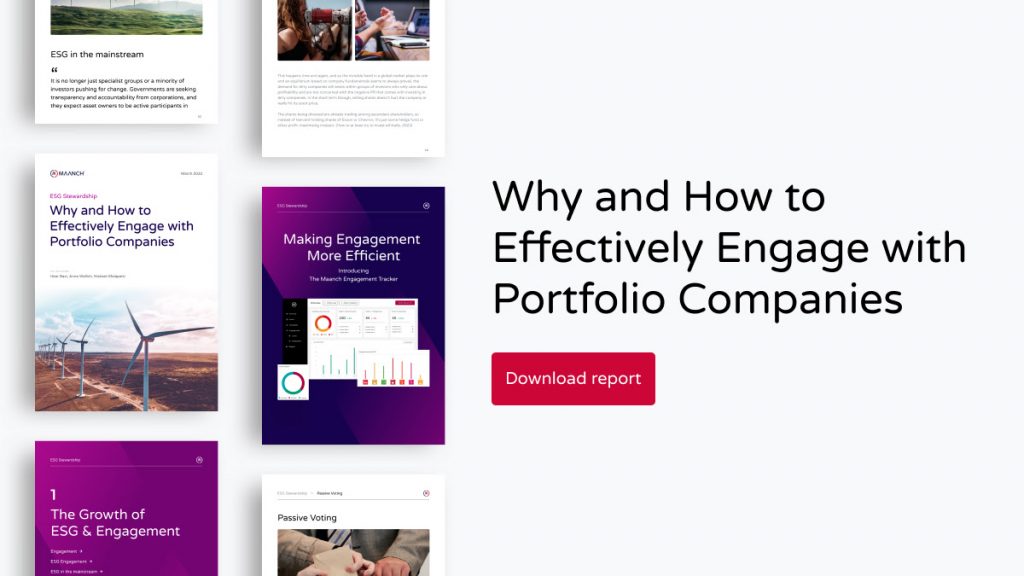 Join us for an Investor Q&A Breakfast

Founded in 2018, Maanch a Certified B Corp is an EIS eligible B2B SaaS platform growing at 10x per year. Our mission is to accelerate impact and sustainability across the world. We do that by helping organisations track their engagements with stakeholders on ESG issues.
We are organising an Investor Networking & Q&A Breakfast session to present all the exciting work we are doing at Maanch, answer questions and share our plans for the future.

When: 29th April 2022, 9AM – 10AM
Where: The Conduit, 6 Langley St, London WC2H 9JA

RSVP now
Thanks for reading. Do write to me with topics you'd like us to write about in the impact space or any feedback!
---