Businesses can't succeed in a failing society. 21st century companies need to deliver shared value – that means doing well and doing good. Shareholder primacy as a concept has become obsolete and stakeholder power is here to stay. In this dynamic environment where companies are expected to do more and be of more value to society, are companies ready?
Companies need to consider and include all their stakeholders and take action towards becoming a trustworthy, purpose-led business which performs well on ESG factors and sees the opportunity in the underlying challenges. Tackling global issues like those laid out by the UN Sustainable Development Goals (SDGs) can make business sense and create value to society. Investing in sustainability needs a robust business case that is not just a cost, a PR move or a check-box exercise; it is an investment in the long term health and success of the business and its place in society.
How do companies find the right strategic framework to succeed in this way? Here are 5 ways for companies to make a sustainable difference:
1. Apply a Holistic Impact Lens
For businesses to be truly sustainable, looking at impact through a singular lens like ESG, CSR or UN SDGs doesn't really cut it. Impact needs a holistic lens and hence a more holistic strategic approach. At Maanch we have created Net Societal Impact (NSI) – a 360 degree approach to embedding impact in your decision-making process.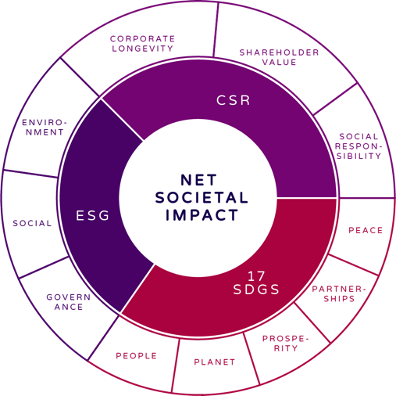 2. Engage Employees in the Company Purpose
Impact begins with purpose and purpose begins with collaboration. As the first step towards their journey to Net Impact, companies should aim to foster cross-functional collaboration and company-wide alignment on the organisational purpose. For its successful implementation, employees need to be convinced of the authenticity of leaders so there is genuine buy-in to their company's purpose. This can be enabled through a culture of transparency and innovation – making information available, empowering employees staying agile and responsive to the needs of the market and society at large.
For an Impact Induction exercise that is tailored to your organisation, write to info@maanch.com to sign up for our new Impact Masterclass series.
3. Involve Stakeholders in the Solution
Addressing systemic issues requires a holistic approach. One company with the right intention cannot solve the complex, interconnected global problems. A race to the bottom of resources, and the wanton depletion of public goods and our natural environment spells ruin for all. Hence leaders need to be brave, adopt a long term perspective and involve stakeholders as a part of the solution. Screening supply chains, vendors and partners for industry-specific compliance standards and listening to customer sentiments about questions on the origin of your product can go a long way in imbibing sustainable business strategies. Regulators need to be kept close too. Learn how we worked with a leading coffee company on their quest to become more sustainable.
4. Use Tech to Measure and Track Impact
To embed purpose and impact, new metrics need to be created and tracked over time. Over-use of the planet's resources holds a big cost for everyone but if it's not measured, outcomes are likely to remain the same. A company's responsibility does not end at setting big Net Zero targets. Businesses should create an environment of transparency and accountability that begins with setting a clear impact measurement and tracking mechanism to help them stay on track with their impact targets. At Maanch we are building an Impact Dashboard to enable companies to easily identify, visualise and communicate their impact across their business activities.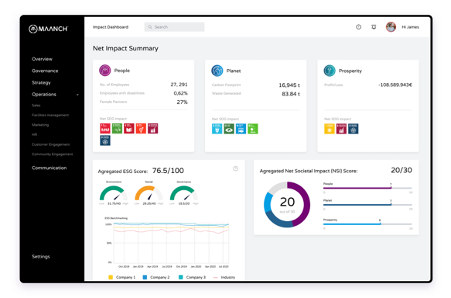 5. Attract Responsible Investors
A re-evaluation of companies is underway. Investors now see the risks involved in investing in irresponsible companies. There is an imminent threat of losing market share, talent, customers, suppliers and other investors if ESG performance remains poor. Investors want to see the opportunity for strong financial returns alongside benefits to the planet and society. Companies need to identify the right investors for their journey; those who will support their ambitions for financial and social value. A mutually reinforcing relationship will benefit both through a joint emphasis on positive non-financial impact in areas that really matter. Collaborative engagement between investors and companies can help companies set ambitious sustainability goals and get the funding needed to stay on track in achieving their impact targets.
In summary, the business sector faces a number of interconnected challenges as stakeholders expect them to be both profitable and good for society and the planet. Some companies are already rising to these challenges but many find it hard to know how to bring all the pieces together to design and deliver a robust impact strategy. The NSI framework above is one way to start that journey. 
Blog by Maanch team member Vidhisha Masrani.
---