Investors are faced with intense market and regulatory pressure to demonstrate their stewardship, with a growing focus on Environmental, Social, and Governance (ESG) engagements. A study by MSCI found that companies with high ESG ratings have lower volatility and higher returns, as they are better able to manage risks and capitalise on opportunities, leading to improved financial performance.
However, it's important to note that not all engagements are effective. It's also important to consider the quality of the engagement, the processes and the impact that it can have.

---
Let's face it, traditional methods for engagement management aren't really cutting it anymore, is it?
Spreadsheets' capturing a multitude of engagements are prone to errors, lack advanced analytics capabilities, and are not designed to handle large amounts of data. Furthermore, they lack real-time updates and a comprehensive view of the entire portfolio which is crucial for effective portfolio management.

---
Tools/ techniques used to manage portfolios
Asset managers use a combination of software, analytical tools, and research to manage their investment portfolios effectively.
Portfolio management software to oversee the performance with real-time portfolio monitoring, analytical capabilities, and comprehensive reporting mechanisms such as BlackRock Aladdin, eVestment, and FactSet.
Risk management software to assess and manage portfolio risks with scenario analysis. Examples include BarraOne and Numerix.
Analytics and modelling tools to forecast market data and potential movements, such as R, Python, and SAS.
ESG research tool to evaluate investments' ESG performance, using tools such as Sustainalytics, MSCI, and ISS-Ethix.
Client portals for real-time portfolio information, including account details and performance reports.
None of these tools focuses on stewardship and engagement activity, which is central to responsible investment. Maanch Engagement Tracker is a holistic tool that streamlines processes and has an open API, for internal and third-party integrations.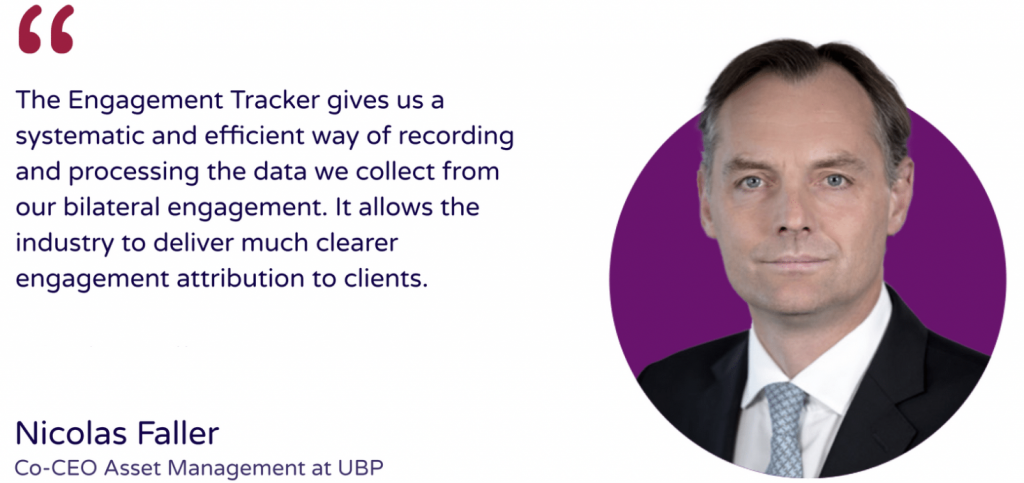 ---
Core Competencies of Engagement Tracker
In today's digital age, technology has the potential to revolutionise the asset management industry. However, the industry is facing a significant challenge – the lack of integration of technology in portfolio management. Despite its potential, the adoption of technology in portfolio management has been slow.

1. Increased Efficiency
In response to evolving market challenges, which contribute to the inefficiencies in managing the engagements of portfolio companies – Maanch Engagement Tracker allows easy and effective capture, analysis, and reporting of every engagement with your portfolio companies in real-time, aligned with the latest ESG taxonomies, such as the UK Stewardship Code, GRI, PRI, EU taxonomy and more.
2. Better Risk Management
Making informed investment decisions, identifying opportunities for diversification, monitoring ESG exposures and mitigating risks are what ultimately help asset managers generate returns for their clients.
Maanch Engagement Tracker ensures increased visibility, with a clear and concise picture of issues, interactions and escalations to seek timely action. With this information, managers can easily make impact-centric investment decisions and mitigate ESG risks.
3. Improved Communication
As per the UK Stewardship Code, asset managers must report on their engagements with portfolio companies and their outcomes. Additionally, with increasing active engagements, the two-way engagement process between investors and portfolio companies is very inefficient.
With Maanch Engagement Tracker, data is automatically visualised and tailored to a variety of stakeholders, which provides an in-depth understanding of the impact of investments and helps identify trends and patterns, aligned with regulations. Its data export feature, with custom filters, lets the user extract only the related information relevant to investors, stakeholders, and other parties.

In conclusion, the Engagement Tracker is an essential tool for any investment portfolio. Uncover its wealth of benefits that can revolutionise the way you manage your portfolio engagements.